Industry Liaison Office at ITQB
Now available online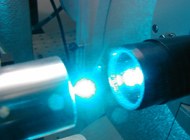 Oeiras, 21.07.10
The website for the Industry Liaison Office at ITQB is now available.
The Industry Liaison Office was created by RanD, a company contracted by ITQB and IBET about a year ago.
The task of the Industry Liaison Office is to search out synergies between ITQB's research interests and the needs of industry and society, thereby increasing the flow of commercial investment into innovation arising from research discoveries at the ITQB.
The effort of ITQB-ILO is two-sided: the Researchers and the Industry.
To researchers, ITQB-ILO offers help to align their research with the needs of society and industry, to protect their results and knowledge, and to transform their discoveries into viable economic products.
To industry, ITQB-ILO offers assistance in the transfer of knowledge and discoveries existing in ITQB's labs.
You can find the ITQB-ILO website on the menu sidebar of this page under Services & Facilities / Technology Transfer.