Infectious diseases fellowship award for ITQB researcher
At world's meeting on infectious diseases and antimicrobial agents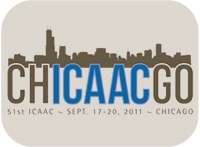 Oeiras, 30.09.11
Maria Miragaia, assistant researcher at the Laboratory of Molecular Genetics, has been attributed the International Conference of Antimicrobial Agents and Chemotherapy (ICAAC) Infectious Diseases Fellows Grant Program Award. ICAAC is the world's premier meeting on infectious diseases and antimicrobial agents, organized by the American Society for Microbiology, and this year was held in Chicago, USA, on September 17-20. The 51st ICAAC attracted more than 10,000 participants, including physicians, clinical microbiologists, researchers, pharmacists, trainees and other healthcare professionals from around the globe.
The study submitted by Maria Miragaia for this award is entitled: "Coagulase-negative staphylococci (CoNS) species are donors of specific cassette chromosome recombinases (ccr) allotypes for staphylococcal chromosomal cassette mec (SCCmec)" and emphasizes the key role of coagulase-negative staphylococci as donors and reservoirs of structural elements of the mobile genetic element that carries the determinant of resistance to the entire beta-lactam family of antimicrobial agents in Staphylococcus.
The ICAAC Infectious Diseases Fellows Grant Program Award program is supported by an educational grant from Pfizer and the American Society for Microbiology and selects up to seventy-five ID Fellows both from US Infectious Disease Fellowship Programs and up to twenty-five ID Fellows from International Infectious Disease Fellowship Programs whose abstract was accepted.
The award offers ID Fellows a unique opportunity to attend ICAAC and participate in an experience specifically tailored to their educational development needs. This select group of Fellows have the opportunity to hear a keynote talk targeted to them, participate in mentored poster walks, receive overviews of recommended sessions for attendance, interact with ICAAC Program Committee members, and be given personalized attention including daily discussions to help them maximize their educational experience.