International Conference on Vaccine Technology
The poster abstract deadline is April 15th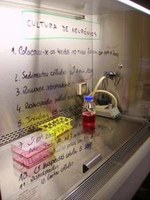 Vaccine Technology
Following ITQB/IBET research activities in vaccine development and gene therapy supported by viral technologies, we are happy to host in Portugal the second edition on Vaccine Technology. This conference will take place in Albufeira, at Hotel Real Santa Eulália on June 1-6, 2008.
200 attendees are expected coming from fundamental research academic labs, as well as scientists from the biggest vaccines companies and non-governmental organizations responsible for vaccination campaigns (Bill and Melinda Gates Foundation). The presence of scientists from developing countries will, certainly, contribute to the success of this conference.
This conference will give the participants the opportunity to build on the strong momentum established at the first edition of Vaccine Technology. The goal is to gather together many of the key leaders in the field to discuss and review progress made in generating new vaccine targets, new technologies for vaccines and new adjuvants. Key strategic issues such as how to generate a new vaccine very quickly and also how to make vaccines more available to the developing world will be also discussed.
Paula Alves, head of the Animal Cell technology Laboratory of ITQB/IBET is co-chairing this conference.
More information here