International Microorganism Day 2019
17 September 2019 | Palácio Marquês de Pombal | Oeiras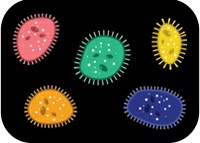 International Microorganism Day
(english version below)
A 17 de setembro, o mundo invisível invade os Jardins do Palácio do Marquês de Pombal, em Oeiras. No Dia Internacional do Microrganismo, venha descobrir os superpoderes das nanopartículas, desvendar as viagens interestelares das bactérias, saber como funciona um microscópio, jogar ao "MICRObowling" e perceber os perigos da resistência aos antibióticos!
As atividades são gratuitas, e podem ser realizadas por alunos integrados em turmas, pelo público sénior ou por qualquer pessoa que queira descobrir o papel essencial que os microrganismos desempenham na nossa saúde, ambiente e qualidade de vida. São organizadas por investigadores do ITQB NOVA – Instituto de Tecnologia Química e Biológica da Universidade NOVA de Lisboa – com o apoio da Câmara Municipal de Oeiras e a participação do IHMT – Instituto de Higiene e Medicina Tropical da NOVA –e do IGC – Instituto Gulbenkian de Ciência.
A data é uma homenagem ao dia em que, em 1963, o holandês Anton van Leeuwenhoek enviou uma carta à Royal Society of London onde relatava a primeira descrição de um microrganismo, acompanhada por desenhos desses organismos e dos seus movimentos. Foram assim lançadas as bases da Microbiologia. A participação nacional nesta iniciativa internacional é promovida pela Sociedade Portuguesa de Microbiologia.
Veja o programa e participe!
https://www.itqb.unl.pt/events/meetings/international-microorganism-day
English Version
On September 17, the invisible world invades the Gardens of the Marquês of Pombal Palace in Oeiras. On the International Microorganism Day, discover the superpowers of nanoparticles, unravel the interstellar travel of bacteria, learn how a microscope works, play MICRObowling, and realize the dangers of antibiotic resistance!
The activities are free, and can be done by students integrated in a class, the seniors or anyone who wants to discover the essential role that microorganisms play in our health, environment and quality of life. These activities are organized by researchers from ITQB NOVA - Institute of Chemical and Biological Technology of NOVA University of Lisbon - with the support of Oeiras City Council and the participation of IHMT - NOVA Institute of Hygiene and Tropical Medicine - and IGC - Gulbenkian Institute of Science.
The date is a tribute to the day when, in 1963, the Dutch Anton van Leeuwenhoek sent a letter to the Royal Society of London stating the first observation of a microorganism, accompanied by drawings of these organisms and their movements. Hence were laid the foundations of Microbiology.
National participation in this international initiative is promoted by the Portuguese Society of Microbiology.
Full program here and participate!
https://www.itqb.unl.pt/events/meetings/international-microorganism-day
---
In the media
Dia Internacional do Microrganismo, Pumpkin, 27.08.2019
À DESCOBERTA DO MUNDO INVISÍVEL, Estrelas e Ouriços, 17.08.2019
Palácio Marquês de Pombal vai ter uma feira de ciência — e a entrada é livre, New in Oeiras, 12.08.2019