International Microorganism Day 2020
17 September | 24 Hour International Event Online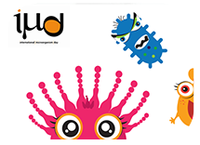 On September 17 a diverse and multidisciplinary community of scientists, communicators and science enthusiasts gathers, once again, to celebrate the International Microorganism Day. This year, following the trend of web-based events set by the COVID-19 pandemic, celebrations take place online, with a special 24 hour videocast organized by the FEMS.
Throughout the whole day, a packed online programme with science talks, round tables and webinars will be running, raising awareness for the importance of microorganisms and microbiology research. The date is a tribute to the day, when, in 1963, Anton van Leeuwenhoek sent a letter to the Royal Society of London stating the first observation of a microorganism, accompanied by drawings and descriptions of their movements, which layed the foundations of Microbiology.
The national participation is promoted by the Portuguese Society for Microbiology (SPM). ITQB NOVA hapily contributed with two videos, featured on the official International Microorganism Day page:
A Science Talk by Maria Miragaia, on Staphylococcus epidermidis and skin protection | found on minute 01:07:37;

An interview by the PCR Podcast to Raquel Sá Leão, on Human pathogens and future challenges | found on minute 03:55:47
Additionally, a lab demo video was developed following suggestions from teachers of the Oeiras Educa network. Their interest in celebrating the International Microorganism Day by sharing scientific content with the students inspired this first didatic lab demo, to be shared in the first week of the 2020/2021 School year. Sara Ramalhete and Diogo Martins, PhD students of the Microbial Development Lab, explain how to grow a bacterial culture, similar to the ones used every day by ITQB NOVA researchers.
Still don't believe microorganisms deserve their own day?
See for yourself, in the full programme and live stream online.


A 17 de Setembro, diversificada e multidisciplinar comunidade de cientistas, comunicadores e entusiastas da ciência reúne-se, mais uma vez, para celebrar o Dia Internacional do Microorganismo. Este ano, seguindo a tendência de eventos com base na Internet estabelecida pela pandemia da COVID-19, as celebrações têm lugar online, com um videocast especial de 24 horas organizado pela FEMS.
Durante todo o dia, decorrerá um programa online repleto de palestras científicas, mesas redondas e webinars, sensibilizando para a importância dos microrganismos e da investigação em microbiologia. A data é uma homenagem ao dia, em 1963, em que Anton van Leeuwenhoek enviou uma carta à Royal Society of London declarando a primeira observação de um microrganismo, lançando as bases da Microbiologia.

A participação nacional é promovida pela Sociedade Portuguesa de Microbiologia (SPM). O ITQB NOVA contribuiu com dois vídeos, apresentados na página oficial do Dia Internacional do Microrganismo:
Uma Science Talk de Maria Miragaia, sobre Staphylococcus epidermidis e protecção da pele | encontrada no minuto 01:07:37;
Uma entrevista do Podcast PCR a Raquel Sá Leão, sobre patogénios humanos e desafios futuros | encontrada no minuto 03:55:47
Foi ainda desenvolvido um vídeo de demonstração de laboratório na sequência de sugestões de professores da rede Oeiras Educa. O seu interesse em celebrar o Dia Internacional do Microorganismo, através da partilha de conteúdos científicos com os alunos, inspirou esta primeira demonstração laboratorial didática, para ser reproduzida na primeira semana do ano lectivo de 2020/2021. Sara Ramalhete e Diogo Martins, alunos de doutoramento do Laboratório de Desenvolvimento Microbiano, explicam como cultivar uma cultura bacteriana, semelhante às utilizadas todos os dias pelos investigadores do ITQB NOVA.
Ainda não acredita que os microrganismos merecem o seu próprio dia?
Veja por si mesmo, no programa completo e no directo online.