Celebrating ITQB
ITQB Day marks 21st anniversary within Universidade NOVA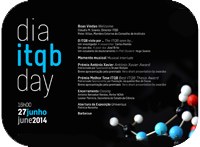 Oeiras, 27.06.2014
The ITQB Day cellebrates the 21st anniversary of the institute's integration in the Universidade NOVA de Lisboa. The ceremony, scheduled for today, gathers the ITQB community and its closest friends to cellebrate past achievements and look beyond to the future of research and education at ITQB.
Starting with the welcome by ITQB Diretor Cláudio Soares and the Institute Council representative Peter Villax, the program continues with three pespectives on ITQB by three members the ITQB scientific community - Carlos Romão as a researcher, José Brito as a postdoc, and Hugo Soares as a student. After a short jazz musical interlude, the ceremony continues with the award ceremonies for the Prémio António Xavier and for the Best ITQB PhD Thesis Prize. The Secretary of State for Science, Leonor Parreira, and the Rector of Universidade NOVA, António Rendas will be closing the session.
Immediatlely after the ceremony, and to mark this occasion, the new exhibition by Patricia Noronha - Universus - is inaugurated at the entrance hall of ITQB.