ITQB goes to Sintra
ITQB is new partner of Centro Ciência Viva de Sintra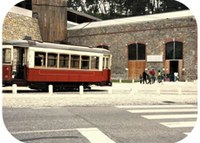 Oeiras, 06.02.2014
ITQB's commitment to science education and outreach is embedded in its long standing role as an associate of the national agency for scientific and technological culture – Ciência Viva. Now, this commitment is taken one step further through the involvement of ITQB with a particular science centre, located in the Lisbon region - Centro Ciência Viva de Sintra. Together with Ciência Viva itself and the Sintra Municipality, ITQB is now the scientific partner of this centre.
The Centro Ciência Viva de Sintra is included in the national network of Ciência Viva centres (currently 20) coordinated by Ciência Viva. The centres aim at promoting science and technology, especially amongst the youngsters, and seek to involve local actors, contributing to the scientific, cultural and economic development of the region. Each centre is managed independently as a non-profit association and has its own directive board. In the case of Centro Ciência Viva de Sintra, this board is now chaired by João Sentieiro, Professor at IST, and includes Sofia Cruz from Câmara Municipal de Sintra and Joana Lobo Antunes from ITQB, who acts as executive director.
The invitation to join Centro Ciência Viva de Sintra, was received with enthusiasm by ITQB. "This is a great opportunity to carry on our mission of taking science and scientists closer to the public" says ITQB Director Claudio M. Soares. With a long tradition in science outreach events, such as the emblematic Dia Aberto, ITQB has gathered experience in activities that work well with different audiences, which can now be shared in a different setting surrounded by the beautiful landscape of Sintra. And all scientists are invited to help!