ITQB NOVA Day Celebrations
The ITQB NOVA community celebrated 30 years of integration into NOVA University Lisbon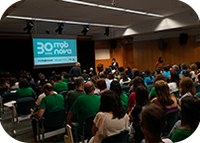 Oeiras, 03 July 2023
Last Friday, the entire ITQB NOVA community came together to celebrate a significant milestone – 30 years of integration into NOVA University Lisbon. Several guests attended the ceremony, including NOVA Rector, João Sàágua, President of the Institute's Council, Vera Pires Coelho, and Elisabete Brigadeiro, responsible for Oeiras Municipality's Science & Innovation.
The ceremony was the perfect occasion to acknowledge the invaluable contributions of ITQB NOVA members throughout the years. Celso Martins received the Best ITQB NOVA thesis of 2020 for his exceptional work titled "Revealing specialization events induced by pollutants in belowground fungal communities", whereas Diana Lousa and Margarida Saramago received the ECRA 2022 prize for the project "TheRaPy4COVID - Tailor-made Replication-inhibitory protein to combat COVID-19". Following the awards, a tribute was paid to ITQB NOVA's staff members celebrating 25 years at the institute.
The event also highlighted memorable moments from the past year, including the "Dia Aberto" and the launch of the "Oeiras Experimenta" Citizen Science project. Throughout the day, the artist Miúdo was at ITQB NOVA painting the first mural of the urban art itinerary that celebrates the 50th anniversary of the NOVA University Lisbon.
The day ended with a traditional "Arraial", with lots of food and drinks, a "quermesse" organized by the students, and a food contest. Along with the ITQBand's concert and a zumba class, this was the perfect finale to this memorable day, a true example of ITQB NOVA's spirit.