ITQB NOVA signs protocols for Internships and research
ITQB NOVA was present in the signing of two protocols to boost synergies among academia, entrepreneurs, and national farmers.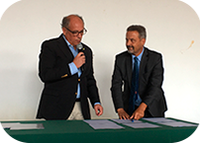 On September 13, in Coruche, during a Field Day organized by Associação Nacional dos Produtores de Milho e Sorgo (Anpromis), ITQB NOVA took part in the celebration of two new strategic protocols in the areas of teaching and research.
The curricular internship protocol, signed by ITQB NOVA's Vice-Dean Margarida Oliveira, aims to contribute to a greater involvement between academia and the agrobusiness sector, with curricular internships and research/training work to take place at the Coruche Innovation Hub and will benefit ITQB NOVA Master and PhD students.
The strategic partnership in cereals was signed by NOVA's Rector, João Sàágua, as well as Anpromis, Associação Nacional de Produtores de Proteaginosas, Oleaginosas e Cereais (ANPOC), and Associação de Orizicultores de Portugal (AOP). This protocol looks to stimulate research in the field of cereals and collaboration between researchers and farmers.
The ceremony counted on the presence of the Minister of Agriculture and Food, Maria do Céu Antunes, the President of the Committee on Agriculture and Fisheries, Pedro do Carmo, the President of Confederação dos Agricultores de Portugal (CAP), Eduardo Oliveira e Sousa, and the President of the Municipality of Coruche, Francisco Silvestre Oliveira.