ITQB post-doc spreads her wings
ERC funded research to be developed at Universidade de Aveiro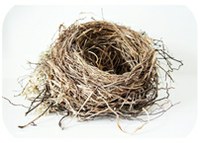 Oeiras, 24.06.13
ITQB post-doc, Mara Freire, now at Universidade de Aveiro, has been awarded with a Starting Grant from the European Research Council. The research will be conducted in Centro de Investigação em Materiais Cerâmicos e Compósitos (CICECO) and the continuation of the collaboration with the ITQB Molecular Thermodynamics Lab is planned. The research aims to develop a new process to purify biopharmaceuticals resorting to the special properties of ionic liquids.
Mara, who has worked at ITQB for the last six years, believes her training at ITQB contributed to this achievement: "working with a specialist such as Luis Paulo Rebelo has been, and always will be an honour. He and his team really made a great contribution to my training in ionic liquids." In her new project, Mara will use ionic liquids to purify antibodies produced in chicken eggs. While the production itself is straightforward (it does not require sacrificing the animal), current purification techniques are still expensive, since no effective techniques exist to separate immunoglobins from contaminant proteins. Aqueous systems constituted by biocompatible and environmentally friendly ionic liquids offer a promising alternative.
With a grant of 1.4 million Euros, Mara Freire will now set off her own research team at CICECO. "I'm sure she will do great", says Luis Paulo N. Rebelo from ITQB, "she is a very resourceful researcher and while I'm sad to see her leaving ITQB, I'm happy to see her becoming a great, internationally recognized scientist. She fully deserves this fantastic opportunity".