João Cascão was awarded Prémio Estímulo à Investigação from Fundação Calouste Gulbenkian
Research on light activated organocatalysis at ITQB NOVA distinguished yesterday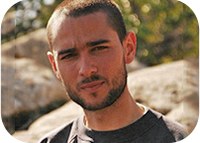 Oeiras, 10.03.2016
We congratulate young researcher João Cascão, PhD student at Rita Ventura Lab , who was awarded yesterday the prize "Estímulo à Investigação" (Stimulus for Research) from Fundação Calouste Gulbenkian.
The Program "Estímulo à Investigação" is for students under 26, involved in research projects in Portuguese institutions . The Program is run annually and it aims to distinguish proposals with high creative potential in Mathematics, Physics, Chemistry and Earth and Space Sciences, to be developed in Portuguese research institutes.
João Cascão was one of the eight awardees of the 2015 edition with the project "New organocatalysts for light activated asymmetric catalysis". Light driven enantioselective organocatalysis is a very recent subfield of catalysis, offering a great potential for rapid development and with very important applications in synthetic organic chemistry. João Cascão and the research group at ITQB NOVA will receive a financial incentive of 12.500€, 2500€ for the researcher and 10000€ for the research.