Killer or defender of S. aureus: antagonistic behaviour of a single enzyme
Bifunctional enzyme with nitroreductase and GSNO reductase activity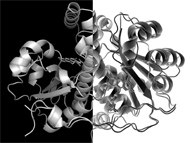 Oeiras, 15.05.2009
Nitrofuran derivatives are commonly used as antibiotics but require the presence of specific enzymes – nitroreductases - inside the bacteria to become active bactericides. When looking into the bacterial nitroreductases of Staphylococcus aureus, ITQB researchers encountered a novel nitroreductase that also has the ability to decompose S-nitrosoglutathione (GSNO), a compound formed in the bacteria upon exposure to the nitrosative stress generated by the immune system. The results are presented in the May issue of the Journal of Bacteriology.
Staphylococcus aureus, a Gram-positive bacterium widely known by its increasing resistance to antibiotics, has four nitroreductases. By sequence analysis, researchers demonstrated that one of these nitroreductases belongs to a different subfamily and this spiked the interest in S. aureus nitroreductase NtrA.
Microorganisms exposed to nitrosative stress must deal with a variety of biochemical distresses, such as the damaging effect of GSNO, a product of intracellular glutathione's reaction with NO. The effect of GSNO on essential bacterial proteins (through S-nitrosylation) is counteracted by its removal via GSNO reductase enzymes. Typically, these enzymes have additional functions in the cell but an enzyme that presented both GSNO reductase and nitroreductase activity had not yet been described.
Nitroreductase NtrA seems thus to play two opposite roles in Staphylococcus aureus; it promotes the activation of nitrofurans, which then become bactericidal compounds, and, in the absence of these antibiotics, it acts as a protection system against the harmful transnitrosylation reactions caused by endogenously formed GSNO.
Original paper

Journal of Bacteriology 191 (10): 3403-3406
A Novel Nitroreductase of Staphylococcus aureus with S-Nitrosoglutathione Reductase Activity
Ana Filipa N. Tavares, Lígia S. Nobre, Ana M. P. Melo, and Lígia M. Saraiva
The Journal of Bacteriology, established in 1916, keeps pace with the times by advancing and disseminating fundamental knowledge of bacteria and other microorganisms. JB has an impact factor of 4.013 according to the Institute for Scientific Information's 2007 Journal Citation Reports. It is ranked #17 by impact factor out of 94 journals in the Microbiology category.