Lessons from the pandemic - Science Moves us Forward
on 25th January, the ITQB NOVA COVID-19 task force will present its results in a two-part session. The first part will be dedicated to its scientific results. The second, a round table at Templo da Poesia, will be open to the public and discuss the lessons learnt and how to prevent and fight a new pandemic.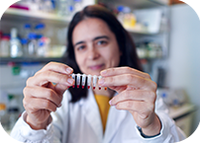 Ultimately, the new normal in the wake of the COVID-19 Pandemic was the result of science. In Oeiras, scientific institutions such as ITQB NOVA directed much of their research to fight SARS-CoV-2. Amidst the pandemic, the institution created a scientific taskforce, with several research projects dedicated to it. In a partnership with the Municipality of Oeiras, the institution also carried out mass testing of first respondents and the validation of COVID-19 saliva tests in the public schools of Oeiras, allowing the testing of a population that was not included in the regular testing: thousands of students from pre-school to 2nd cycle.
This work will now have its closing event, in a two-part session. The first part, taking place at ITQB NOVA from 2-4pm, will feature the presentation of the scientific results of the scientific taskforce, with the presentation of the research developed. The second part, at 7 pm at the Templo da Poesia, in Oeiras, will be a round table about the work developed and the partnership with the Municipality of Oeiras, and will tackle the role of scientific institutions during local and global emergencies. This session will be in Portuguese, and be chaired by the journalist Carlos Vaz Marques, with the participation of City Councelor Pedro Patacho, Pneumologist Filipe Froes, ITQB NOVA's Director Cláudio M. Soares, Researcher Catarina Pimentel, responsible for the COVID-19 Saliva tests in schools, and PhD student Sara Handem, who volunteered at the RT-PCR COVID-19 testing done to first respondents in Oeiras.
The round table will also be the opening of the exhibit "Science Moves Us Forward", showing the ITQB NOVA community at work during the peak of the pandemic and now. The exhibition will be on display until FEB 28.