Margarida Trindade awarded NOVA's Blended Learning Award
A team of ITQB NOVA and NOVA FCSH awardees was distinguished by NOVA in the promotion of Excellence in Higher Education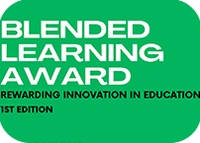 Oeiras, 5 April 2022
The head of the ITQB NOVA Funding Office, Margarida Trindade, is one of the winners of the NOVA Blended Learning Award (BLA), in the Social Sciences and Humanities category. The award recognizes the curricular unit "Research Manager as a profession in the EU ecosystem: concepts, tools and practice I", lectured by Susana Trovão, Cristina Oliveira, Chrysi Rapanta (NOVA FCSH) and Margarida Trindade (ITQB NOVA), at NOVA FCSH.
BLA rewards the best blended-learning courses in each of the three partner universities (NOVA FCSH; NOVA, Autonomous University of Madrid and Tor Vergata University of Rome), in different areas of knowledge, and the efforts of their faculty to respond to the COVID-19 challenge of distance education.
This curricular unit developed by this team was designed during the lockdown and is available to every bachelor's student of NOVA FCSH. It is integrated into the ERASMUS+ project foRMAtion and aims to build up students' science management skills in an international environment, with joint activities with students from the project's partner universities (NOVA FCSH; University of Sapientia, in Romania; and University of Cornivus, Hungary).
Cristina Oliveira, NOVA FCSH (left) and Margarida Oliveira, ITQB NOVA (right)
The Prize will be awarded on April 5th, Tuesday, at NOVA's Rectory Auditorium B, from 9am to 1pm. Every candidate as their peers is invited to attend the event which will be constituted by two initial panels. Margarida Trindade and Cristina Oliveira will join the ceremony online, and Susana Trovão will attend to receive the award. You can sign up for the event here.