Mariana Pinho elected for the European Academy of Microbiology
ITQB NOVA's PI joins her colleague Cecília Arraiano as a member of one of the most prestigious European institutions in the area. Two Portuguese researchers from IGC have also been elected.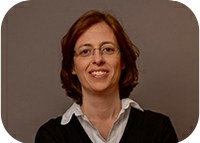 ITQB NOVA's PI and two-times ERC grantee Mariana Pinho, head of the Bacterial Cell Biology Lab, has just been elected as a member of the European Academy of Microbiology (EAM). The researcher will present her work at the upcoming EAM meeting, which takes place at the end of March in La Granja, Spain. Mariana Pinho is one of three Portuguese new members, along with Isabel Gordo and Karina Xavier, researchers at Instituto Gulbenkian de Ciência. They will join ITQB NOVA's Cecília Arraiano, elected to EAM in 2016.
"It's an honour to be elected to this Academy and join some of the European microbiologists I admire most. It is also great to see that of the eleven new members elected this year, three were Portuguese women", said Mariana Pinho. EAM veteran Cecília Arraiano celebrated the new colleagues. "I am thrilled that Portugal will be also represented by those three exceptional microbiologists."
EAM was established in 2009 by the Federation of European Microbiological Societies (FEMS), to promote excellence and raise awareness in microbiology across Europe. It gathers over 150 microbiologists who are leaders in their fields, representing over 20 countries. Members are elected through a highly selective, peer-reviewed process, based on their records of scientific achievement and original contributions for the advance of microbiology.
"Mariana Pinho's ground-breaking research has been recognized twice by the European Research Council, and her election to EAM is a consequence of that work", says Claudio M. Soares, Dean of ITQB NOVA. "We are very proud to have her as one of our Lab heads".
Mariana Gomes de Pinho holds a degree in Applied Chemistry from Faculdade de Ciências e Tecnologia, Universidade Nova de Lisboa (FCT NOVA). She began her research career studying mechanisms of antibiotic resistance in the Laboratory of Hermínia de Lencastre, at ITQB NOVA. She continued onto her PhD, for which she moved, in 1997, to the Laboratory of Alexander Tomasz at The Rockefeller University, in New York. In 2001 she became interested in understanding where and how bacterial proteins localize and joined the Laboratory of Jeff Errington at the University of Oxford, UK, to work on this subject.
After 8 years abroad, she returned to Portugal and in 2006 started her own research group, the Bacterial Cell Biology Laboratory, at ITQB NOVA. In 2012, she won an ERC Starting Grant to study the internal organization of the pathogenic bacteria Staphylococcus aureus, mainly known for its resistance to antibiotics. In 2017 she won an ERC Consolidator Grant to study the bacterial cell cycle and use that knowledge to develop new approaches to re-sensitize antibiotic-resistant bacteria.