Mariano Gago (1948-2015)
ITQB researchers pay tribute to his legacy to Portuguese science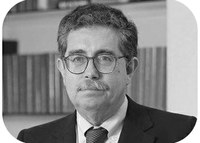 Dear colleagues and friends,

As you probably know, Prof. José Mariano Gago passed away, 17th of April.
His enormous contribution to the development of science in Portugal is a well recognised fact, both nationally and internationally.
The ITQB has a great debt of gratitude to Prof. Mariano Gago, for his support as President of JNICT and Minister of Science , and for his role in modernizing portuguese science and applying international standards.
Institutions like ITQB prospered under this new vision and the conditions sustained while he was responsible for portuguese science.
In honor of Prof. Mariano Gago ITQB joins an initiative of the portuguese scientific community next Monday 20 at 12h to stop its activities for 5 mins and concentrate outside the main entrance.
We invite all colleagues to join this initiative.

The ITQB Direction