Master in Medical Microbiology 2015/17
Call for applications is open till August 21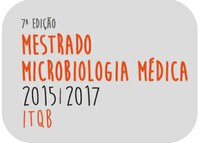 Oeiras, 03.06.2015
The call for applications to the Masters in Medical Microbiology 2015/17 is now open. Interested students with a degree in the areas of Life Sciences and Health should submit their application till August 21. Information on the application procedures can be obtained on the Masters website.
The aim of the Masters in Medical Microbiology is to train professionals in this area both for clinical and academic settings. In the first semester, students attend core units in medical microbiology. A flexible second semester allows students to build their own program by selecting five out of 14 optional units. All units, mostly taught in Portuguese, have a strong practical component. In their second and final year, students choose their thesis research project to be developed in one of the four collaborating institutions or, upon approval by the scientific committee, elsewhere in Portugal or abroad.
The Masters in Medical Microbiology, now in its 7th edition, is organized jointly by four units of Universidade NOVA de Lisboa: Instituto de Tecnologia Química e Biológica António Xavier (ITQB), Instituto de Higiene e Medicina Tropical (IHMT), Nova Medical School/Faculdade de Ciências Médicas (FCM) and Faculdade de Ciências e Tecnologia (FCT). The masters' coordination rotates among the four institutions: ITQB is the coordinator in 2015/17.