Matteo Bertero Prize to ITQB PhD student
International Symposium on Metal Complexes held in Italy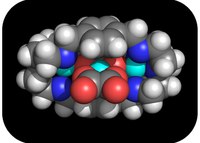 Oeiras, 17.06.2014
The Matteo Bertero Memorial was awarded to Catarina V. Esteves, a PhD student at Coordination & Supramolecular Chemistry Laboratory supervised by Rita Delgado, for the poster presented at the International Symposium on Metal Complexes (ISMEC2014). The meeting took place from 8 to 12 of June at University of Pavia, Italy.
Matteo Bertero (1993-2014)), was a young and brilliant chemistry student from University of Pavia that died suddenly last January. Professors, students, and his parents established this award in memory of Matteo. The "Matteo Bertero Prize" is awarded to young researchers on the basis of their poster presentations and curriculum vitae.
The work entitled "Binding studies of a dicopper(II) cryptate with dicarboxylate anions" was presented as a poster and orally. The dicopper(II) cryptate studied has one of the highest association constants reported in the literature for the oxalate anion.
Poster
Binding studies of a dicopper(II) cryptate with dicarboxylate anions
Catarina V. ESTEVES, Pedro MATEUS, Rita DELGADO