Microrganismos na Praia da Torre
24 Setembro | Praia da Torre | Oeiras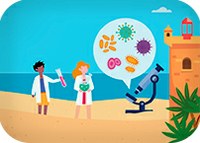 Oeiras, 18 August 2023
Na sequência do sucesso da última edição, no dia 24 de setembro, o Dia do Microrganismo volta à praia. Das 16h às 19h, a Praia da Torre vai ser o palco dos microrganismos que nos rodeiam e que tantas vezes passam despercebidos.
Entre observações ao microscópio, conversas com investigadores do ITQB NOVA, histórias, e oficinas criativas, são várias as atividades para desvendar o lado invisível da ciência. Descubra os microrganismos que vivem na praia da Torre e nas profundezas do oceano, experimente um teste portátil à água onde mergulha, explore a resistência aos antibióticos e muito mais! Traga os miúdos para fazerem desenhos com areia, participarem na hora do conto e outras atividades!
Termine o dia com o melhor que as bactérias e os fungos têm para nos oferecer enquanto desfruta de uma Kombucha fermentada no ITQB NOVA, ao som do imperdível DJ E. coli.
Venha descobrir o maravilhoso mundo dos microrganismos com o ITQB NOVA e o Município de Oeiras!
Sobre o Dia: O Dia Internacional do Microrganismo é realizado em Portugal por iniciativa da Sociedade Portuguesa de Microbiologia (SPM), com o objetivo de sensibilizar para o papel essencial que os microrganismos desempenham na nossa saúde, ambiente e qualidade de vida. A data é uma homenagem ao dia em que, em 1683, o comerciante holandês Antonie van Leeuwenhoek fez a primeira descrição de um microrganismo – retirado da sua própria placa dentária -, acompanhada por desenhos destes e dos seus movimentos. Foram assim lançadas as bases da Microbiologia.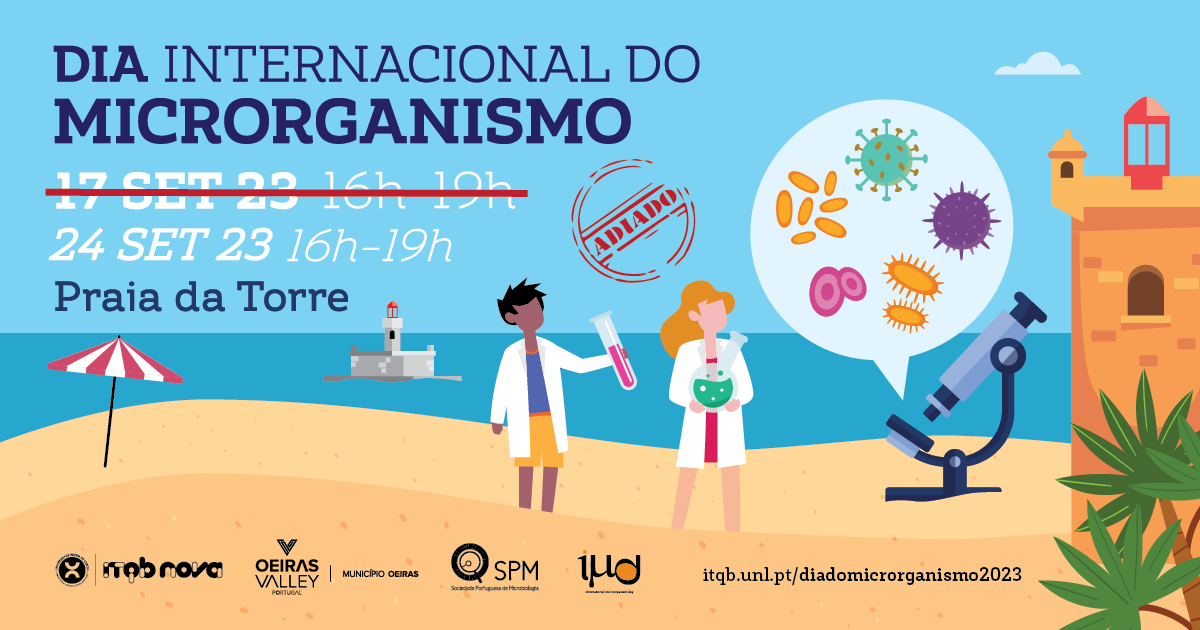 Programa
Experimentar: Observação ao microscópio, bactérias fluorescentes, teste à qualidade da água da praia, resistência a antibióticos, quizzes e muito mais
À conversa com investigadores: Descubra o lado invisível da ciência
Em busca dos microrganismos do mar profundo português: As aventuras de um microbiólogo a bordo de uma expedição do ROV Luso
Hora do conto: Leitura do livro infantil "Ao Ataque!"
Oficina criativa
Happy Hour com Kombucha
Música a cargo do DJ E. coli
Podem descobrir e explorar os vários conteúdos sobre os microrganismos:
EN
Microorganisms at Praia da Torre - International Microorganism Day 2023
Following the last edition's success, on September 24, International Microorganism Day is back to the beach. From 4 to 7 pm, Praia da Torre will be the stage for the microorganisms that surround us and so often go unnoticed.
From microscope observations, talks with ITQB NOVA researchers, stories and creative workshops, there will be many activities to unveil the invisible side of science. Discover the microorganisms that live on Praia da Torre and in the depths of the ocean, learn how the water where you swim is tested, explore antibiotic resistance and much more! Bring the kids to draw with sand and participate in many other activities!
End the day with the best that bacteria and fungi have to offer as you enjoy a Kombucha fermented at ITQB NOVA, to the sound of DJ E. coli.
Come and discover the wonderful world of microorganisms with ITQB NOVA and Oeiras Municipality!
Program
Hands-on: Microscope observations, beach water quality test, fluorescent bacteria, antibiotic resistance, quizzes and much more
Conversations with researchers: Discover the invisible side of science
Discovering the microorganisms of the portuguese deep sea: The adventures of a microbiologist in a ROV Luso expedition
Storytime: Reading of the children's book "Ao Ataque!"
Creative workshop
Happy Hour with Kombucha
Music with DJ E. coli
International Microorganism Day in Portugal is an initiative of the Portuguese Society of Microbiology (SPM), to raise awareness of the essential role microorganisms play in our health, environment and quality. The date is a tribute to the day when, in 1683, the Dutch businessman Antonie van Leeuwenhoek made the first description of a microorganism - taken from his own dental plaque - accompanied by drawings of them and their movements. This laid the foundations for Microbiology.