New edition of StartUp Research NOVA in February 2023
Several scholarships are available for the ITQB NOVA and NOVA SBE Post-Graduation that helps researchers envision the value their science can generate. Applications are open until December 15th.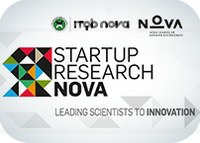 The fifth edition of StartUp Research, the Post-Graduation developed in partnership between ITQB NOVA and NOVA SBE, will take place from February 3rdto May 12th 2023. This program is collaboratively built by scientists and entrepreneurs from these institutions, designed to create awareness in researchers of the value their science can generate. Applications are open until December 15th 2022, and candidates can apply for the several scholarships available.
Aimed at researchers from all areas of life sciences, the Startup Research helps train students, giving them the necessary entrepreneurial skills and knowledge about the latest market trends to implement business ideas in their respective fields. Classes are taught on Fridays (14h – 19h) and Saturdays (9h - 13h) at ITQB NOVA or at NOVA SBE.
This program intends to bring scientists, entrepreneurs and industry together, and provides all scientists, science managers and executives with an advanced scientific degree aimed at managing innovation and businesses. ITQB NOVA will be responsible for the technical content (e.g., innovation in biotech, intellectual property protection, project management, etc.) and NOVA SBE will outline its innovation and entrepreneurship side.
"The StartUp research program was a unique learn-by-doing experience on innovation and business concepts applied to science. Mentors, tutors, and guests deeply challenged us to develop our entrepreneurial mindset and see our scientific innovations with a different set of eyes", says 2021 alumna Rita Mendes. "This program is perfect for scientists who want to improve their communication, problem-solving skills, and teamwork; expand their network, and consider other career options outside academia", she adds.
If you wish to learn more and for information on the scholarships available, please visit the official page of this innovative post-graduation.