New Marie Curie Training Network on Membrane Proteins
Laboratory of Membrane Protein Crystalography from ITQB is one of the partners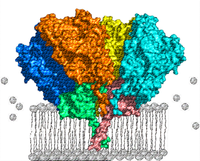 Membrane Protein
Oeiras, 18.01.08
The project on Structural Biology of Membrane Proteins has been accepted by European Commission under 7th Framework Programme on Research, Technological Development and Demonstration. The Laboratory of Membrane Proteins of ITQB, headed by Margarida Archer, is one of the partners in this Marie Curie Training Network that combines 13 academic research groups and three industrial companies.
Membrane proteins (MPs) are known to be key molecules in cellular communications, from signal transduction to transport of ions, metabolites and other molecules. They also participate in the synthesis of ATP, the import of soluble or MPs from the cytosol, and they protect living organisms from toxic factors.

The proposal consists in a joint training effort involving the major biophysical methods that are -or soon will be- the major techniques used in the field of structural biology of MPs. A collaborative effort is essential for the training of the future generation of biologists dedicated to membrane proteins. It will pave the way to an integrative approach for the study of structure-function relationships of membranes. It will therefore open new strategies for structure-based drug design, in particular toward G-protein coupled receptors (GPCR), which are major drug targets (GPCRs represent 30% of current drug targets). The training proposed in this program will not only form high-level academic researchers but will also largely contribute in forming the main actors of the future developments in biotechnology and personalized medicine.
The groups involved in this project are internationally recognized for analysing the structure and dynamics of membrane proteins by a combination of experimental and theoretical approaches: in vivo and in vitro expressions systems, functional/biochemical/biophysical characterisation, X-Ray diffraction, electron microscopy (EM), atomic force microscopy (AFM), single-molecule force spectroscopy (SMFS), liquid and solid state NMR, numerical simulations. Seven partners from 6 different countries are involved: France, Poland, Portugal, Switzerland, Germany and the Netherlands.
Further information on this network and student applications can be found here