"O mundo do RNA": RNA biology in portuguese
Book release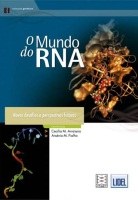 Oeiras, 10/03/07
The book "O mundo do RNA" is coordinated by Cecília Arraiano, Senior Researcher at ITQB, and Arsénio Fialho, Associate Professor at Instituto Superior Técnico, and joins the contributions of Portuguese researchers with recognized work in the field of RNA, a crucial molecule for the control of gene expression.
This is the first book written in Portuguese about RNA biology, a topic of increased interest both for the understanding of genetics and for novel applications in Medicine. It is enough to say that in 2006 two Nobel prizes – in Medicine and Physiology and in Chemistry - were attributed to scientists working on RNA.
Besides Cecília Arraiano herself, the list of book authors includes other ITQB researchers, namely Isabel Sá Nogueira and Claudina Rodrigues-Pousada.

"O mundo do RNA" results from a collaboration between Sociedade Portuguesa de Genética and Editora Lidel - Edições Técnicas.
The release ceremony of the book "O mundo do RNA" took place on 8th March in the Biblioteca Municipal de Oeiras. The book was presented by Luis Archer, Retired Full Professor of Genetics from the Faculdade de Ciências e Tecnologia, Universidade Nova de Lisboa.