NOVA Wellbeing Platform
The SASNOVA (Social Welfare Services of NOVA University of Lisbon) have recently launched the platform "The Bridge - Nova's Student Wellbeing" developed with the aim of promoting and monitoring the mental health of students at the University.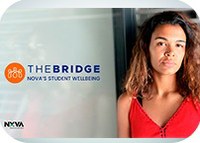 "The Brigde" is a new wellbeing platform by Universidade NOVA de Lisboa, which includes the possibility of direct contact by chat, informative content, and access to health technicians, with an emphasis on psychological support services.
The project arose from a need detected by Nova SBE students - the importance of promoting mental health and improving access to psychological support services for all students. Over the last three years the Student Development Office, together with SASNOVA has been working on these initiatives and had created the Well-being Week and annual sessions about mental health for NOVA SBE professors. The last goal of this collaboration was to have a platform available to all the student body, which was achieved this month, thanks to the Serviços de Acção Social of the University. The construction of the platform used the participatory Design methodology was based on a set of participatory workshops with NOVA students.

Student testimonies in the "The Bridge" website share how this type of support can be extremely helpful: "To me, the psychological support consultations were one of the best things I did. In the beginning, I was very hesitant because I thought that psychologists were only for people who had very serious problems...Even though I have a lot to work for, I recognize that I'm much better and that I see the world in a different way thanks to these consultations."

Any NOVA student can use the resources available on this platform and use the tools available to improve their general well-being.