NOVA wins "Young Entrepreneurial University of the Year" award
The prize reflects the success of the university's entrepreneurial ecosystem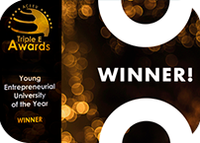 NOVA University Lisbon was awarded "Young Entrepreneurial University of the Year" by the Accreditation for Entrepreneurial and Engaged Universities (ACEEU), during the Triple E Awards ceremony, which took place in Florence at the end of June.
This is the first time a European University is distinguished for its role in the creation of value in society through innovation.
NOVA was among the five finalists chosen by a specialized jury.
Through its students, alumni and researchers, NOVA has created more than 100 startups. Every year, more than 2500 students get involved in activities related to entrepreneurship, and there are 19 spin-offs recognised by NOVA that are responsible for the creation of more than 165 jobs.
Get to know the innovation ecosystem of NOVA through the NOVA Innovation Portal.