Open registration for Transbio Workshop in November
Metabolomics and Molecular Interactions for Biology and Health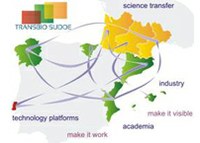 Oeiras, 24.07.2013
Registration is now open for the Transbio workshop Metabolomics and Molecular Interactions for Biology and Health to take place at ITQB from 13 to 15 November 2013. The workshop program, available here, focus on metabolomics and molecular recognition using NMR, MS, X-Ray and informatic tools.
The workshop is free of charge but registration is mandatory. Priority will be given to student and researchers within the Transbio Community.
Registrations should be sent by email to TransbioMetabolomics2013@itqb.unl.pt till October 31st.
TRANSBIO is a transnational interdisciplinary project of R&D institutions in the Southwest region, supported by the European Regional Development Fund (FEDER), under the framework of the Southwest European Space Territorial Cooperation Programme (SUDOE). ITQB is the Portuguese partner of Transbio.