New tools for drug design
K4DD project results published today in Nature Communications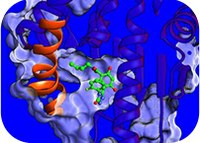 Oeiras, 22.12.2017
with iBET
A considerable number of approved drugs show non-equilibrium binding characteristics, emphasizing the potential role of drug residence times for in vivo efficacy. Therefore, a detailed understanding of the kinetics of association and dissociation of a target–ligand complex might provide crucial insight into the molecular mechanism-of-action of a compound. With this goal in mind, Kinetics for Drug Discovery (K4DD) consortium was initiated to explore these concepts and ultimately to improve decision making in drug discovery, thus leading to a better selection of interesting compounds to be profiled further.
The work from K4DD partners iBET, Merck KGaA, Heidelberg Institute for Theoretical Studies and ITQB NOVA has resulted in a publication in the high-impact journal Nature Communications. The comprehensive study gives insights into the contribution of protein dynamics into the binding and unbinding mechanism of small drug-like molecules to human heat shock protein 90 (HSP90) by combining thermodynamics and kinetics studies as well as molecular dynamics simulations.
HSP90 is one the most abundant proteins in the cytoplasm of eukaryotic cells and is involved in a variety of pathways, including protein folding, cell signaling, proliferation and survival. It has emerged over the last 25 years as a potential gateway for the treatment of cancer because it holds a target site for drugs interfering with ATP binding and ATPase activity. This study reveals an unusual mechanism of binding of small molecules to HSP90, which can be further explored in effective drug design for cancer treatment.
K4DD is a program that brings together 20 partners (research institutes, universities and companies) to enable the adoption of drug-target binding kinetics analysis in the drug discovery decision-making process, and thereby contribute to the development of a new generation of improved medicinal products.
5-year program, started in November 2012, is supported by the Innovative Medicines Initiative Joint Undertaking (IMI JU), with financial contribution from the European Union's Seventh Framework Programme (FP7/2007-2013) and EFPIA companies'.
Original article
Nature Comms. 2017 Doi: 10.1038/s41467-017-02258-w
Protein conformational flexibility modulates kinetics and thermodynamics of drug binding
Amaral M, Kokh D, Wegener A, Bomke J, Buchstaller HP, Eggenweiler HM, Matias P, Wade RC, Frech M.