Pedro Matos Pereira awarded Maratona da Saúde Prize
ITQB NOVA PI won the Maratona da Saúde Prize for Research in Infectious Diseases, in the Junior Category, for his work with S. aureus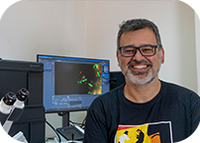 ITQB NOVA PI Pedro Matos Pereira is the winner of the eighth edition of the Maratona da Saúde Prizes for Research in the Junior Category. In an edition dedicated to Infectious Diseases, Matos Pereira was awarded 20 000€ for his work regarding the intracellular recognition mechanisms of Staphylococcus aureus by mammalian cells. The head of the Intracellular Microbial Infection Biology Lab was selected by an international jury and the Scientific Council of the Maratona da Saúde among 49 applications.
"It is an honour to receive the Maratona da Saúde Prize", stated Pedro Matos Pereira. "The fact that it was partially funded by citizens gives us an even higher sense of responsibility in this research". Pereira's research aims to find new ways of tackling antibiotic resistance by understanding, and ultimately exploring, the molecular signatures on the bacterial cell surface that are recognized by mammalian host cells.
The winning project tackles antibiotic resistance - a problem that, according to a UN Report, is expected to kill 300 million people and produce damages to the economy as disastrous as the 2008/09 global financial crisis over the next 30 years. Alternative strategies for antimicrobial therapies are a global challenge that calls for disruptive approaches. These approaches should use more biologically meaningful models (while reducing the need to use animal models), disrupt niches of antibiotic selective pressure, effectively nurseries of antibiotic resistant strains. The experimental framework will have a far-reaching impact on our understanding of autonomous immunity, non-professional intracellular pathogen recognition and more generally on the mechanisms of intracellular recognition of pathogens. Understanding the molecular signatures on the bacterial cell surface and correlating them with autonomous immunity detection will improve our understanding of the inherent cell biology, while providing new prospects for chemotherapy strategies.
The award ceremony will be held on September 28th at the Calouste Gulbenkian Foundation, in Lisbon, during the Final Seminar of the Maratona da Saúde. In this edition, which will be the last of the Marathon, the Janssen Senior Category was attributed to Luísa Peixe, from UCIBIO-REQUINTE and Pharmacy Faculty of Universidade do Porto, for her work on "A new weapon for fighting the growing threat of antimicrobial resistance: characterization of a potential antibiotic obtain from a soil extract" ("uma nova arma para combater a ameaça crescente da resistência antimicrobiana: caracterização de um potencial antibiótico obtido de um isolado do solo"). Three scientists of the junior category also received honourable mentions: Cristina Cunha, ICVS; Manuela Ferreira, CNC and Katharina Willmann, IGC.
Founded in 2012, Maratona da Saúde is an initiative that aims to raise awareness for the fields of health and biomedical research and to fund excellent scientific projects in Portugal, through an annual solidarity show, in partnership with RTP. Each year is dedicated to a specific topic. Maratona da Saúde aims to contribute to a more informed, motivated and competitive society, capable of integrating the crucial pillars of economic global progress.
This year, Janssen was one of the main partners of the projects, that also counts with the support of RTP, Fundação Altice Portugual, IGC, FCT, Roche, the Oeiras City Council, Ciência Viva, Medical Societies, among others.