Pharmaceutical sector recognizes Claudina Rodrigues-Pousada
"Almofariz" award ceremony in Lisbon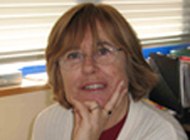 Oeiras, 01.10.09
Claudina Rodrigues-Pousada, invited professor at ITQB, received this Monday the "Prémio Almofariz – Figura do Ano", as a recognition for raising the profile of Pharmaceutical sciences, through her scientific work. The award ceremony took place on September 29th at Hotel Vila Galé Ópera in Lisbon.
Before obtaining her PhD in Biochemistry at the Institut de Biologie Physico-Chimique in Paris, Claudina Rodrigues-Pousada graduated in Pharmacy at the Universidade do Porto in 1968. Since 2000, she heads the Genomics and Stress Laboratory at ITQB.
The Almofariz awards are attributed every year since 1995 by Farmácia Distribuição, the leading Portuguese magazine for Pharmacy professionals. Symbolically represented by a traditional pharmacy object – the mortar and pestle (almofariz) – these awards include seven different categories. Figura do Ano (personality of the year) is the highest distinction of these awards.