PhD Fellowships for PTNMR PhD Program
Call for applications at the Doctoral Programme in Nuclear Magnetic Resonance Applied to Chemistry, Materials and Biosciences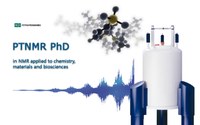 Oeiras, 22.02.2017
The call for applications to the 2017 edition of the PhD Program in Nuclear Magnetic Resonance Applied to Chemistry, Materials and Biosciences is now open. ITQB NOVA is one of the scientific partners. Seven FCT-funded fellowships are available to highly motivated candidates interested in the molecular perspective of life sciences. The application deadline is February 28.
The aim of the PTNMR doctoral training program is to foster the development of NMR spectroscopy in Portugal by training students within a specific research plan, to take the maximum advantage of this powerful technique in a variety of key research areas:Structural Biology, Material Sciences, Small Molecules, Metabolomics and Metabonomics.
This training program will contribute to take the maximum gain of the recently installed national research infrastructure that integrates the national Roadmap of Research Infrastructures.
Interested candidates should visit the PhD Program website and access the online application form, where all information can be uploaded.
The PhD Program is funded by Fundação para a Ciência e a Tecnologia and involves ITQB NOVA, FCT NOVA, Técnico, Universidade de Coimbra, Universidade de Aveiro, Universidade da Beira Interior and Universidade do Porto.