Fascination of Plants Day 2019
18 May 2019 | Palácio Marquês de Pombal | Oeiras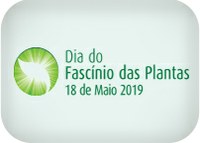 Fascination of Plants Day
(english version below)
Oeiras, 5 de maio de 2019

No dia 18 de maio, os jardins do Palácio do Marquês de Pombal recebem o Dia do Fascínio das Plantas. Das 10 às 17h, será possível ficar a conhecer mais sobre as plantas o seu papel na nossa vida e na sustentabilidade do planeta. O evento, organizado pelo ITQB NOVA, o IBET, o CiB e a ANSEME com o apoio da Câmara Municipal de Oeiras, da Leica, da Filsat e da Printão, terá várias iniciativas direcionadas ao público de todas as idades.
Logo pela manhã, tem lugar a atividade "À descoberta das árvores", dedicada às famílias, e a sessão "À Descoberta dos Jardins" com o Professor Fernando Catarino, antigo diretor do Jardim Botânico de Lisboa, que fará uma visita guiada aos jardins do Palácio do Marquês. Durante a tarde, o cientista Pedro Fevereiro, investigador do ITQB e professor da Faculdade de Ciências da Universidade de Lisboa, responderá à questão "Será que as plantas que comemos vêm mesmo da natureza?". Serão também entregues os prémios do concurso de fotografia - saiba quem são os vencedores.
Durante todo o dia, será possível visitar as exposições ""Porque precisamos das plantas " e "PlantLab Sketching". Haverá ainda uma Feira de Ciência com a participação de investigadores do ITQB e do IBET, com bancas dedicadas aos temas "as sombras das plantas", "o código secreto do sobreiro" , "o jogo da fotossíntese", "das dunas e das falésias para a sua varanda", "o mundo invisível das plantas", "da semente à planta" e "o cardo na produção de queijo".
Veja o programa e deixe-se fascinar pelo maravilhoso mundo das plantas!
English Version
On 18 May, the gardens of Palácio do Marquês de Pombal will host the Fascination of Plants Day. From 10 am to 5 pm, get to know more about plants, their role in our life and in the sustainability of the planet. The event is organized by ITQB NOVA, IBET, CiB and ANSEME with the support of Oeiras City Hall, Leica, Filsat and Printão, and will have several activities for people of all ages.
In the morning, families can take part in the activity "Discovering the trees". Those who wish to "Discover the Gardens" will have the unique opportunity to meet Professor Fernando Catarino, former director of the Lisbon Botanical Garden, who will do a guided visit to the grounds. In the afternoon, ITQB Lab Head Pedro Fevereiro, who is also a Professor at the Faculdade de Ciências da Universidade de Lisboa, will be answering the question "Do the plants we eat really come from nature?". The prizes of the photography contest will also be presented - take a peek at the winners!
The exhibitions "Why we need plants" and "PlantLab Sketching" will be open throughout the day. A Science Fair with the participation of researchers from ITQB and IBET will also take place, with stands dedicated to "the shadows of plants", "the secret code of the cork oak", "the game of photosynthesis", "from dunes and cliffs to your balcony", "the invisible world of plants", "from seed to plant" and "the thistle in cheese production".
See the programme and immerse yourself in the fascinating world of plants!