Plant Metabolomics
Review paper sets base for research area at ITQB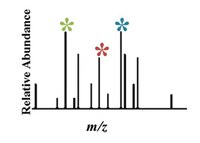 Oeiras, 22.01.2015
While settling at ITQB, researchers from the Plant Metabolomics Lab, the most recent group of the Plant Sciences division, decided to thoroughly determine the scientific baseline of their research area – the metabolic profiling of plant responses to environmental stress. The result is a 30-page review paper, written in collaboration with international specialists in mass spectrometry and plant physiology, which is now published in the journal Mass Spectrometry Reviews.
After genomics, transcriptomics and proteomics, metabolomics is also high-throughput approach but for characterizing the metabolic profile of cells or tissues in a given condition. In a sense it is like obtaining a physiological snapshot of the sample by collecting information on the wide range of chemical species present (the metabolome). Technically, metabolomics requires highly sensitive analytical tools to separate and characterize the compounds, but no single technique can provide the whole answer and current modern metabolomics studies often combine multiple mass spectrometry-based platforms.
This review paper covers the latest technological developments in mass spectrometry based metabolomics applied to plant responses to environmental stress. The text is divided in three main parts: one focus on sample preparation for plant metabolomics, another updates the technical advances of different mass spectrometry-based plant metabolomics platforms, and a third one reviews recent applications of metabolomics to study plant responses to different environmental factors, such as drought, salt, low oxygen caused by waterlogging or flooding of the soil, temperature, light, and oxidative stress.
According to the authors, the knowledge is still incomplete but high-throughput profiling of "the metabolites that allow some plants to adapt to adverse environmental conditions" will contribute to "the understanding and development of stress-tolerant plants". In this light, the Plant Metabolomics Lab, coordinated by Carla António, is now working to investigate the regulation of primary metabolism in response to flooding, drought and salt-stress in different plant species, such as Glycine max, Oryza sativa, Medicago truncatula and Casuariana glauca. These metabolomics studies should help to elucidate how plant metabolism is differentially adjusted in specific stress situations and whether metabolic adjustments are stress specific or common to different types of stress.

Original Article
Mass Spectrometry-Based Plant Metabolomics: Metabolite Responses To Abiotic Stress
Mass Spectrometry Reviews DOI: 10.1002/mas.21449
Tiago F. Jorge,1 João A. Rodrigues,2 Camila Caldana,3 Romy Schmidt,4 Joost T. van Dongen,4 Jane Thomas-Oates,5 and Carla António1
1 - Plant Metabolomics Laboratory, ITQB
2 - Instituto de Medicina Molecular, Portugal
3 - Max-Planck-partner group at the Brazilian Bioethanol Science and Technology Laboratory, Brazil
4 - RWTH Aachen University, Germany
5 - University of York, UK