Pontin and Reptin featured in Science Signaling
Researchers report on first international workshop in this area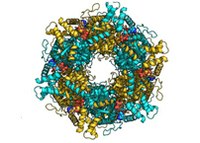 Oeiras, 28.03.13
The March 12 issue of Science Signaling, a journal from AAAS, features the meeting report on the First International Workshop on Pontin and Reptin, with contributions from the seven invited speakers, including Pedro Matias from ITQB.
The first Workshop on Pontin and Reptin was held in October 2012 in Bordeaux, France. Plans for the second edition are now underway and the workshop is expected to take place in October 2014 at ITQB.
Pontin and Reptin are emerging proteins in the signaling landscape. They are related members of a superfamily of conserved proteins, which act in the assembly of protein complexes for the regulation of cellular energetic metabolism, transcription, chromatin remodeling, and the DNA damage response. Little is known, though, about the interconnections between these multiple functions, how the relevant signaling pathways are regulated, whether the interconnections are affected in human disease, and whether components of these pathways are suitable targets for therapeutic intervention. A major outcome of the meeting was a general consensus that most functions of Pontin and Reptin are related to their roles as chaperones or adaptor proteins that are important for the assembly and function of large signaling protein complexes.

Original article
Sci. Signal. (2013) 6:mr1. DOI: 10.1126/scisignal.2003906
The Emergence of the Conserved AAA+ ATPases Pontin and Reptin on the Signaling Landscape
J. Rosenbaum, S. H. Baek, A. Dutta, W. A. Houry, O. Huber, T. R. Hupp, P. M. Matias
Other References
S. Gorynia, T. M. Bandeiras, F. G. Pinho, C. E. McVey, C. Vonrhein, A. Round, D. I. Svergun, P. Donner, P. M. Matias and M. A. Carrondo, "Structural and functional insights into a dodecameric molecular machine – The RuvBL1/RuvBL2 complex" (2011) J. Struct. Biol., 176:279-291. DOI:10.1016/j.jsb.2011.09.001.
P. M. Matias, S. Gorynia, P. Donner, M. A. Carrondo "Crystal Structure of the Human AAA+ Protein RuvBL1" (2006) J. Biol. Chem. 281:38918-38929. DOI: 10.1074/jbc.M605625200