Portuguese wild blackberries trump commercial varieties
Researchers test in vitro neuroprotective effect of fruit extracts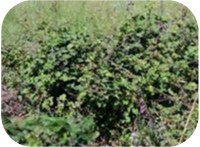 Wild blackberries native to the Portuguese flora have a stronger neuroprotective effect than commercially available varieties. This is the major finding of a work conducted by researchers from the Disease & Stress Biology Laboratory in collaboration with the Animal Cell Technology Unit, the CEDOC and The James Hutton Institute (Dundee, UK). The work is published in the European Journal of Nutrition.
Researchers tested the effect of digested extracts of two wild species of blackberries (Rubus brigantinus and R. vagabundus) on in vitro cultured neurons. Further molecular analysis revealed that the observed neuroprotective action results from cellular adaptative responses that go beyond simple antioxidant effects. Since tests were carried out with digested extracts within the concentration range found in human plasma in real live conditions, researchers expect these wild fruits to have a potential benefit for age-related neurodegenerative diseases.
According to the researchers, these findings also open a window for the valorisation of Portuguese blackberries, contributing to the protection of the native flora. Moreover, this may trigger the introduction of new "superfruits" or food ingredients, with higher nutritional and health benefits, in the market.
Original article
European Journal of Nutrition (2012) 10.1007/s00394-012-0307-7
Neuroprotective effects of digested polyphenols from wild blackberry species
Lucélia Tavares, Inês Figueira, Gordon J. McDougall, Helena L.A. Vieira, Derek Stewart, Paula M. Alves, Ricardo B. Ferreira, Cláudia N. Santos