Postdoc Appreciation Week at ITQB NOVA
A special occasion to acknowledge the significant contributions of postdocs to research, discovery, and outreach activities.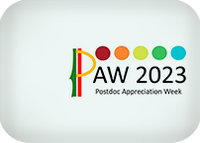 Oeiras, 12 September 2023

The first ITQB NOVA Postdoc Appreciation Week takes place from the 18th to the 22nd September.
This week promises a diverse range of activities, including talks on scientific career paths, workshops on drama and social media, culminating in a Happy Hour hosted by InTeraQb. Some of these activities require prior registration. Make sure to check out the whole program here.
Throughout the week, there will be several initiatives to show our appreciation for Postdocs at ITQB NOVA. Stay tuned for the exciting surprises in store, and don't forget to share your appreciation using the hashtag #PAWpt2023.