Prize for cork oak sequencing
Genosuber considered an elevated potential project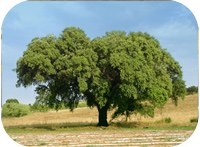 Oeiras 07-12-2015
Genosuber, a project involving ITQB and iBET Plant Sciences researchers, won the Crédito Agrícola's Innovation Award 2015 in the category "Project with elevated potential promoted by Associate of Crédito Agrícola". The main goal of Genosuber is to fully sequence the cork oak (Quercus suber L.) genome.
The winners of the second edition of the Prémio Empreendedorismo e Inovação Crédito Agricola were announced on December 2. Five prizes in five categories and three honourable mentions were attributed.
The cork oak forest (the "montado") is a unique and emblematic resource for Portugal, due to its ecological and socio-economic significance, and the commercial value of cork. Worldwide, Portugal is the main cork producer (about 1/3 of the world production). However, Mediterranean evergreen oaks (holm and cork oak) are being threatened by damaging policies of land use, climate change, biotic stresses and fire. The information that will become available by sequencing the cork oak genome will not only increase the number of researchers dedicated to studying this species, but it will also increase the effectiveness of their studies, allowing them to progress much faster in response to the agronomical and industrial needs.
| | | |
| --- | --- | --- |
| | | The Cork oak Genome Initiative is coordinated by Centro de Biotecnologia Agrícola e Agro-alimentar do Baixo Alentejo e Litoral (CEBAL) and further involves Instituto Nacional de Investigação Agrária e Veterinária (INIAV), Instituto de Tecnologia Química e Biológica (ITQB), Instituto de Biologia Experimental e Tecnológica (iBET) and BIOCANT. |