Promoting berries in Europe
Recently approved FP7 project includes ITQB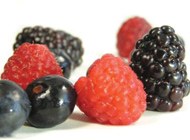 Oeiras, 29.06.10
The Disease and Stress Biology Laboratory at ITQB is involved in a recently approved European project on berry fruits. Submitted to the Seventh Framework Programme (FP7) Food, Agriculture and Fisheries, and Biotechnology 2010 Call, project "EUBerry" was selected out of a total of 9 proposals.
The consortium, originated from a COST Action in this field, includes 13 partners from 10 different European countries and involves 10 Universities/Research Centres and 3 SMES. The Portuguese team, located in the Oeiras Campus, is headed by Cláudia Santos from the Disease and Stress Biology Laboratory and also comprises a research group from INRB-INIA.
The main objective of the EUBerry project is to provide the necessary knowledge and tools to facilitate the development of high quality, consumer desirable fresh berry fruits of high nutritional quality optimal for human health at a competitive cost.
It was the Portuguese National Delegation that brought the attention of the European Commission to the berry topic. After a joint effort - started as early as 2007 - of Cláudia Santos (ITQB) and Maria João Fernandes (IBET and GPPQ) this topic was finally included in the 2010 KBBE work programme. Now, and after a very competitive call, EUBerry is finally approved. As participants put it "the road to FP7 is difficult but not impossible".
The total EC contribution to the EUBerry project is 3 M€ (with 10% allocated to the Portuguese team).