Protein Data Bank roadshow at ITQB
Registrations are open till May 2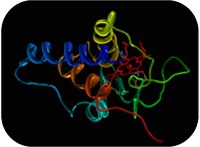 Oeiras, 29.04.11
The European Bioinformatics Institute is presenting a roadshow on the Protein Data Bank at ITQB on 5 May, 2011.
The Protein Data Bank is a key resource for studying biological macromolecules. Its archive contains information about experimentally-determined (typically by X-ray crystallography and NMR) structures of large molecules such as proteins, nucleic acids, and complex assemblies. Users can perform simple and advanced searches based on annotations relating to sequence, structure and function. These molecules are visualized, downloaded, and analyzed by users who range from students to specialized scientists.
The roadshow will be presented by Sameer Velankar, who has extensive experience in PDB annotation, and is currently a scientific officer with responsibility for data content and integration for the PDBe. The presentation is suitable for students, post-docs and scientists who work with structural information in biology.
This workshop is a combination of presentations and handson tutorials and will cover the following topics:
Introduction to the PDB
Data validation
PISA - assembly determination for crystal structures
PDBeFold - Searching and aligning protein structures by secondary structure matching
Hands-on Tutorials

A wireless internet connection will be provided. Please bring your laptop/notebook for the tutorial session.
Please RSVP before May 2, 2011 to Pedro Matias (matias@itqb.unl.pt) – places are limited.