Protein Folding and Metal Ions
New book on mechanisms, biology and disease co-edited by ITQB researcher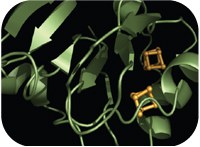 Oeiras, 02.11.2010
ITQB researcher Cláudio Gomes and Pernilla Wittung-Stafshede from Umea University co-edit a new book on protein folding. Focusing on the important role of metal ions in many proteins, "Protein Folding and Metal Ions: Mechanisms, Biology and Disease" includes contributions by leading international experts in this field.
About one third of human proteins bind metal ions such as calcium, zinc, copper and iron. The book addresses the role of metal ions in determining protein folding and stability, discusses its biological implications, and illustrates how metal binding can be connected to pathological protein conformations in a wide range of diseases, from cancer to protein deposition disorders such as Parkinson's and Alzheimer's disease.
Besides its importance to a wide range of scientists in numerous fields, this book presents practical information on methodologies, making it particularly useful to those working in structural biology and bioinorganic chemistry and those involved in the molecular and cellular aspects of metals in biological systems. Together, the 13 chapters in this book clearly describe the scientific state-of-the-art, illuminating current challenges and future possibilities, and encourage further study in an area which may yield novel approaches for treating some of the most challenging human diseases.
Claudio M. Gomes is the head of the Laboratory of Protein Biochemistry, Folding & Stability.
Book