Research4Covid19: ITQB NOVA researchers fight COVID-19
The institute leads one project and participates in two more approved by FCT to research the new coronavirus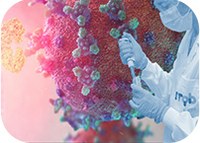 ITQB NOVA researchers lead one project and take part in two more of those approved for funding by the Fundação para a Ciência e Tecnologia (FCT), under the 2nd edition of the Research4Covid19 Call. The call aims to develop innovative research solutions to fight the COVID-19 pandemic.
"DETECT: Development of an Easy, fast-Track and Economical Colorimetric Test for autonomous national diagnosis of COVID-19" coordinated by Catarina Pimentel from the Genomic and Stress Lab, is a consortium between ITQB NOVA, Military Academy (UMLDBQ/CINAMIL), and Armed Forces Hospital (HFAR).
The project has been awarded EUR 35,000 to develop and validate a molecular test based on loop-mediated isothermal amplification (LAMP) for the detection of SARS CoV-2 in a fast and cheap way, independent of bulky instruments or imported reagents, only requiring a simple dry bath and visual inspection of the reaction products. The test has the potential to be performed directly from patient samples, without the need for prior extraction and purification of viral RNA. The ITQB NOVA team includes Adriano Henriques, Catarina Amaral, Elin Moe, Mónica Serrano, and Rita Ventura.
ITQB NOVA, through its Protein Modelling Lab, led by Claúdio M. Soares, is further involved in two other projects, coordinated by Instituto Gulbenkian de Ciência (IGC): "A practical assay for routine detection of neutralizing antibodies against SARS-CoV-2 that bypasses requirements for high biosafety laboratory usage", led by Maria João Amorim, and "Predicting SARS-CoV-2 susceptibility by tracking the genetic variability of the ACE2 receptor", coordinated by Ricardo Leite. At ITQB NOVA, several teams are redirecting part of their research to learn more about the new coronavirus, working on basic and applied research from new approaches to testing to drug design.
The RESEARCH 4 COVID-19 call was launched by FCT in response to the COVID-19 pandemic, in collaboration with the Agency for Clinical Research and Biomedical Innovation (AICIB). It is a funding line to support R&D projects and initiatives that address relevant prospects in the fight against the new coronavirus or mitigation of its negative effects. At Universidade NOVA de Lisboa, six projects have been selected for funding. Overall, 55 projects will be funded by FCT, in a total investment of 2 million euros.