Seeds of Science awarded at the annual "Gala da Ciência"
ITQB researcher receives award for the Life Sciences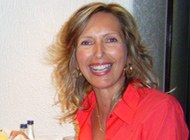 Cecília Arraiano
Last Saturday, 14th of March, the second edition of Gala da Ciência, promoted by the science online journal "Ciência Hoje", took place at Figueira da Foz. During the ceremony, a group of Portuguese researchers were distinguished with the Seeds of Science Awards. For her contribution in the area of the Life Sciences, Cecilia Arraiano from ITQB was one of the awardees.
The Gala da Ciência was also the occasion to announce the winners of the competition "Na Senda de Darwin". Announced one year ago, this competition on the life and work of Charles Darwin involved 166 teams of high school students. The winning team, Testudines from Viseu, will now have the chance to visit the Galapagos Islands.
Among the many researchers present, the Science Minister, José Mariano Gago, and the Director of Ciência Viva, Rosália Vargas also attended the ceremony.
The full video of the ceremony is now availbale online.