Short Internships at ITQB NOVA
Several ITQB NOVA Labs offer short term projects for Undergrad Students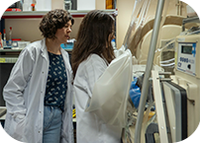 Oeiras, 2 June 2023
Are you a university student looking for hands-on experience in the world of scientific research? ITQB NOVA offers short internships that allow you to immerse yourself in ongoing research projects alongside experienced researchers, gaining practical and theoretical knowledge.
There are diverse laboratories at ITQB NOVA offering short-term training periods, including summer and school year internships, as well as opportunities for bachelor's and master's theses. Check out the list of available laboratories here and choose a field that aligns with your interests.
Embark on your scientific career by taking the first step with a short internship at ITQB NOVA! Expand your knowledge, develop essential skills, and connect with the scientific community.
ITQB awards credits (ECTS) for different types of research training. Please contact the Academic Services for further information.