Social Media for Scientists
NOVA Doctoral School course is now also an e-book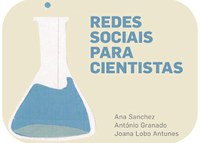 Oeiras, 20.01.2015
Social Media for Scientists, one of the courses of the NOVA Doctoral School, is now also available as a free downloadable booklet. Authored by the course instructors, Ana Sanchez (ITQB's Communication Office), Joana Lobo Antunes (ITQB's Communication Office) and António Granado (Professor at FCSH-UNL and course coordinator), this e-book aims to show the benefits of social networking for the scientific community. The book announcement was made yesterday during the NOVA Doctoral School Opening Day 2015.
Written in Portuguese, "Redes Sociais para Cientistas" explores how scientists can make use of different social networks to share their work, build a reputation, strengthen their networks, and even reach further than the scientific community to engage with the public. In 50 pages, the booklet includes many tips to get started and summarizes the main features of professional networks like ResearchGate and LinkedIn, the versatility of tools such as Facebook and Twitter, the power of content curation, and the adventure of science blogs.
The NOVA Doctoral School is an initiative within the NOVA University, which offers PhD students and supervisors a range of complementary and transferable activities to support their personal and professional development. ITQB is directly involved in three courses within the NOVA Doctoral School: Science Communication, Communicating Science Visually, and Social Media for Scientists.