Starting MOSTMICRO
Researchers organize kick-off meeting of research unit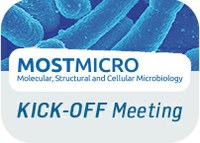 Oeiras, 12.10.2015
The official launch of the Molecular, Structural and Cellular Microbiology Unit (MOSTMICRO) took place today, during the kick-off meeting held at ITQB.
MOSTMICRO is one of the recently approved research units to be funded by Fundação para a Ciência e a Tecnologia during the next five years. Upon evaluation by an international panel, the unit was considered "Excellent". This is a multidisciplinary unit composed by 29 laboratories within ITQB, which collaborate to advance the fundamental knowledge of living organisms, with emphasis on important bacterial pathogens, having as ultimate goal the improvement of human health.
According to ITQB Director and MOSTMICRO Coordinator, "this is an excellent occasion to have all MOSTMICRO members focused on how we can make the best out of this unit". Cláudio Soares stresses that "the research units where we participate – MOSTMICRO, GREEN-IT, and iNOVA4HEALTH – are a way to organize our research activities but we must remember we all belong to ITQB NOVA"
The two-day kick-off meeting of MOSTMICRO includes scientific sessions and team building activities that aim to increase the interaction between MOSTMICRO members. The first day takes place at ITQB, while the second day takes place in Sintra and Estoril.