StartUpResearch 2020 arrives to its final landmark
Final pitch session of the StartUp Research 2nd edition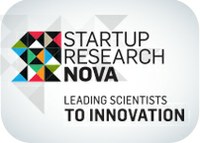 Next Friday, 5 June at 2 pm, the students of the StartUp Research 2nd edition will present a final pitch of their work in an online session:
A path for the production of biofuels, a new business model for academic service provision, new products derived from fishery waste, a skin-on-chip device that micks human skin, a new drug for fat liver disease, novel biocidal filers for environment control, new ways to play with children while generating awareness for serious health-related habits, a revolutionary device for aiding the elderly with type II diabetes, and novel One-Health advice based on microbiome analysis.
Programme:
14h – 14h30 – Welcome
Cláudio M. Soares (ITQB NOVA)
Rita Cunha (NOVA SBE)
Counselor Pedro Patacho (Câmara Municipal de Oeiras)
14h30 – Pitches

17h30 - Isabel Rocha - Pro-rector for Innovation at NOVA
StartUp Research is a post-graduation, designed to endow Life Science researchers with an Innovation mindset. In a truly interdisciplinary approach, the programme brings scientists, entrepreneurs, and industry together, and provides all science managers and executives an advanced scientific degree aimed at managing innovation and businesses. ITQB NOVA is responsible for the technical content (e.g., innovation in biotech, intellectual property protection, project management etc.), and Nova SBE outlines the innovation and entrepreneurship side to it. In this edition, there was an extended project management unit and a new Grant Writing training.