Stepping forward in gene therapy
New strategies in downstream processing of viral vectors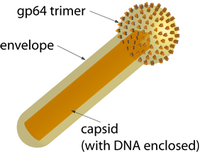 Diagram of a baculovirus
Oeiras, 13.04.09
Promising applications in the laboratory are sometimes difficult to translate into useful clinical products. Finding a scalable and sustainable process is a common bottleneck, especially when dealing with complex biopharmaceuticals. Now, ITQB / IBET researchers present a new processing route for the production of recombinant baculoviruses that is easy to transfer to process scales under cGMP (Good Manufacturing Practices) guidelines, while maintaining good yields and high purity levels. A description of the proces can be found online, as an Advance Online Publication, in Gene Therapy, a journal from the Nature Publishing Group.

Gene therapy approaches using viral vectors are becoming effective tools for the treatment of unmet diseases. Recombinant baculoviruses, versatile workhorses in the recombinant protein field, present several advantages over existing viral vectors (like non pathogenecity to mammalian hosts) and show great potential for clinical human applications. But while their production in insect cells is well established, the downstream process has been poorly developed. Till now.

The scalable process developed by researchers at the Animal Cell Technology Laboratory is a completely integrated strategy that uses state-of-the-art membrane processes for recombinant baculoviruses purification and aims at injectable-grade virus batches for gene therapy.

Gene Therapy, a Nature Group Journal, covers both the research and clinical applications of the new genetic therapy techniques currently being developed.
Gene Ther. advanced online publication, 2 April 2009; doi: 10.1038/gt.2009.33
Purification of recombinant baculoviruses for gene therapy using membrane processes
Tiago Vicente*, Cristina Peixoto*, Manuel José Teixeira Carrondo, Paula Marques Alves
*These authors contributed equally to this work.