Students on the Master in Biochemistry for Health
Video collects 1st and 2nd year students' testimonies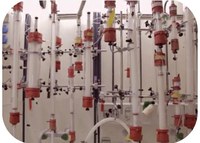 Oeiras, 22.06.2015
Anticipating the Master in Biochemistry for Health Day, ITQB releases a new video about this Master course. In one minute and 40 seconds, first and second year students tell us why they choose the Master in Biochemistry for Health and what they think about the course.
The Master Programme in Biochemistry for Heath of Universidade NOVA provides a critical and analytical perspective of human health from a biochemical point of view. The programme relies on the strong scientific and educational expertise of Faculdade de Ciências e Tecnologia, Faculdade de Ciências Médicas, and ITQB to access multidisciplinary areas of research and development in several sectors of industry and services related to human health, including pharmaceutical industry, clinical analysis, and biotechnology.
On July 13, ITQB welcomes all students interested in learning more about the Masters in Biochemistry for Health. During this open day, potential students have the opportunity to talk both with professors and students, and visit the facilities. Entrance is free but registration is required.