Sugar signals
Sugar trehalose 6-phosphate enables plant recovery after stress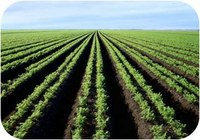 Oeiras, 03.06.2013
Sugars produced during photosynthesis drive the plant's growth by activating a number of genes. A collaborative work involving ITQB researchers from the Lab of Plant Cell Biotechnology shows that the sugar signal trehalose 6-phosphate not only activates genes to promote plant and crop growth under good growing conditions, but also enables growth recovery after a period of stress. The findings are published in Plant Physiology.
During a growing season crops encounter many environmental conditions from cold and drought through to heat and flooding. A challenge of crop production is to ensure that crops can be productive no matter what the environment throws at them. Growth processes that incorporate sugars into plant starches, cellulose, protein, oils and vitamins are sensitive to environmental variables and a key to crop improvement is to ensure that weather extremes do not have a large detrimental impact on crop yields. The present study demonstrates that trehalose 6-phosphate in combination with a protein kinase, SnRK1, activates gene expression to enable rapid growth recovery following stresses such as low temperature. This finding will enable researchers to design more resilient crops that cope better with extremes of temperature and more variable climatic conditions predicted in the future.
The study resulted from collaboration between researchers from ITQB, University College London and Rothamsted Research in UK, and University of Utrecht in the Netherlands. Work at ITQB dealt with the expression analysis of genes regulated by SnRK1, during normal and stressed growth conditions.
[Source: adapted from BBRSC News Archive]
Original Article
Plant Physiology June 2013 pp.113.220657
The trehalose 6-phosphate/ SnRK1 signalling pathway primes growth recovery following relief of sink limitation
Cátia Nunes, Liam O'Hara, Lucia F. Primavesi, Thierry L. Delatte, Henriette Schluepmann, Govert W. Somsen, Anabela B. Silva, Pedro S. Fevereiro, Astrid Wingler, and Matthew J.Paul