Summer Science @ITQB NOVA
Internships for undergrads | 22 - 26 July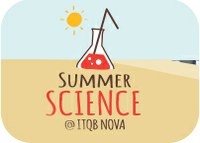 (versão portuguesa em baixo)
Have you given some thought to what to do this summer? If beach, swimming pool, paella and about 25 hours in a cutting-edge research lab sounds like it, you are all set to the 2019 edition of Summer Science @ ITQB NOVA. Our summer internships for undergrad students provide you the opportunity to first-hand experience science in a trailblazing research institute. From the 22nd to the 26th of July, you will be placed in a laboratory of your choice and participate in workshops and social activities that will allow you to meet and interact with scientists and, most of all, have fun!
ITQB NOVA is a scientific research and advanced training institute of the Universidade NOVA de Lisboa. It is located in Oeiras, at the Tagus river mouth, only 10 walking minutes from Oeiras train Station, and just outside Lisbon, Portugal. Applications are open until June 11th to Portuguese and foreign undergrad students (2nd year). Join us for the best part of your summer!
(versão portuguesa)
Já pensaste no que vais fazer este Verão? Que tal praia, piscina, paella e cerca de 25 horas a fazer investigação num laboratório de topo? Se estás no segundo ano da licenciatura, junta-te a nós na edição 2019 da Summer Science @ ITQB NOVA!
Nos nossos estágios de verão para estudantes de licenciatura, vais ter a oportunidade de desenvolver a tua ciência num instituto de investigação pioneiro. De 22 a 26 de julho, ficarás integrado num laboratório à tua escolha, num programa com workshops e e atividades sociais que te permitirão conhecer e interagir com investigadores e, acima de tudo, passares um bom momento!
O ITQB NOVA é um instituto de investigação científica e formação avançada da Universidade NOVA de Lisboa. Está localizado em Oeiras, na foz do rio Tejo, a apenas 10 minutos a pé da Estação de Comboios e mesmo à saída de Lisboa, Portugal. As candidaturas estão abertas até ao dia 11 de junho. Podem candidatar-se estudantes portugueses e estrangeiros que estejam no 2º ano da licenciatura. Summer Science @ ITQB NOVA: a melhor parte do teu Verão!