Summer Science2023 @ ITQB NOVA
Summer School for Undergrads - 17 - 21 July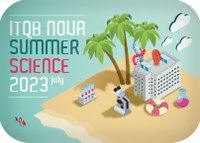 Oeiras, 7 June 2023
The 2023 edition of Summer Science @ ITQB NOVA takes place from 17th to 21st of July! This programme of summer internships gives undergraduate students (2nd and 3rd year) the opportunity to get to know the science made at ITQB NOVA, from the backstage to the frontline. Students get first-hand experience in science, spending one week in a research lab and developing a real scientific project.
During the week, students will have the opportunity to talk with ITQB NOVA researchers, learn more about their research and their life in the lab. They can also participate in scientific discussions and workshops, visit our infrastructures and, to top it all off, have the best of times in the social activities we have prepared. Students from all over the world can participate and will have a privileged view of the institute!
Applications are open from June 12th to 25th.
Register here.