Survival strategies for microorganisms
Evolution of gene duplication in Trichomonas vaginalis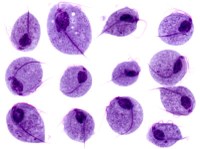 Oeiras, 29.06.2016
Trichomoniasis is a sexually transmitted disease (STD) caused by the parasite Trichomonas vaginalis. Trichomoniasis is the most common curable STD in young, sexually active women. According to the WHO, an estimated 160 million new cases occur each year in women and men, although men often do not have any symptoms and can be undiagnosed carriers.
Pathogens suffer damages inflicted by the chemicals that are produced by the host immune system during the infectious process. However, pathogens evolve several means of evading or subverting the host defences. ITQB NOVA's Molecular Mechanisms of Pathogen Resistance Laboratory previously revealed a new family of protein, the Repair of Iron Centres proteins (RICs) that protects microbes from the damage caused on pathogens by the oxidative and nitrosative stress imposed by the host, and showed that RICs are widely spread in nature from bacteria, fungi and protozoa.
Interestingly, T. vaginalis is the only microbe that expresses two homologs, named RIC1 and RIC2. In this study the authors have addressed this gene duplication phenomenon. It is shown that the two T. vaginalis RICs share significant amino acid sequence similarity but have different biochemical characteristics that provide different functions.
This paper has been recommended by David Leitsh, University of Vienna, on F1000 Prime, an in-depth directory of the top articles in biology and medicine. Articles are selected by a peer-nominated global 'Faculty' of the world's leading scientists and clinicians who then rate them and explain their importance.
"This paper constitutes the first study on 'repair of iron centres' proteins (RICs) of a protist parasite, i.e. of Trichomonas vaginalis. In fact, RICs have not been identified in any organism outside the bacterial kingdom so far, rendering this study all the more interesting."
in Leitsch D: F1000Prime Recommendation of [Nobre LS et al., Protist 2016, 167(3):222-233]. In F1000Prime, 08 Jun 2016; DOI: 10.3410/f.726321114.793519156.
Original article
Protist, Vol. 167, 222–233, June 2016
Trichomonas vaginalis Repair of Iron Centres Proteins: The Different Role of Two Paralogs
Lígia S. Nobre, Dionigia Meloni, Miguel Teixeira, Eric Viscogliosi, and Lígia M. Saraiva